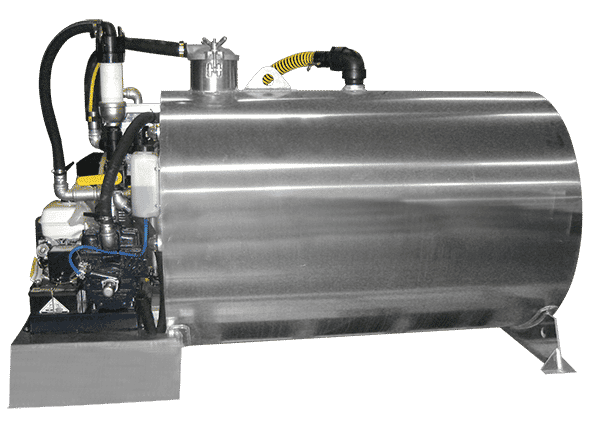 FUEL OIL MAINTENANCE & FILTRATION SYSTEMS
Fuel Supply Filtration is especially important considering the stringent fuel quality requirements of modern industrial engines where fuel quality impacts engine performance, reliability and emissions. Many studies have indicated poor fuel quality as a major cause of failure of standby power systems. Fuel Supply Filtration Systems attack and correct these sources of fuel degradation, becoming a critical element in the chain of reliability of standby power systems by providing a maintenance system for fuel oil in bulk, long-term storage.
Fuel Gard's fuel oil filtration, conditioning and maintenance system for tanks dedicated to diesel or turbine engine generator sets or with oil-fired boiler or process heat systems. Filter systems are intended for use with fuel oil held in bulk, long-term storage tanks both above-ground and underground. Tank capacities range in size from 1,000 gallons up to 50,000 gallon tanks.
Fuel Gard systems draw fuel from the bottom of the tank and returns the fuel at opposite end with minimal disturbance of the settled strata resulting in good filtration performance and removal of contaminants and water.
Fuel Oil is stored in larger amounts at Data Centers and Mission Critical facilities for extended run time during an outage. Because this fuel is only used during emergencies and periodic system tests the fuel is used at a very slow rate and therefore it is stored for a long time. Depending on many factors this fuel will degrade over time, in fact some degradation will start as soon as the fuel leaves the refinery. Water is the big concern for the life expectancy of fuel oil. As part of the manufacturing process some water is entrained in the oil. The fuel is stored in atmospheric tanks, water vapor is then introduced through the vents. Over time this water will start to drop out of the oil and collect at the bottom of the tank.
At the interface between the fuel oil and the water microbial life will start to grow. They will feed on the fuel and will actually create more water. These microbes will die and will form sludge that will collect at the bottom of the tank. If this water or sludge were brought into the generator or boiler it will cause filters to get clogged and injectors to fail causing the prime mover not start thus causing a major failure.
A filtration system is used to remove this water and particulate (sludge). The fuel is pumped from the bottom of the tank through a set of filters to remove this material and the oil is returned to the same tank at the opposite end. A entry level  system includes an inlet strainer, positive displacement pump, and hydrosorb filter to remove water and particulate. Systems can also be complex for large tank farms with filter media installed in a ASME vessel rated up to 400 GPM at 150 PSI.  These systems are set up to run automatically with monitoring sensors to safely shut down the system as the  filter starts to clog.
An important feature of filtration systems, in addition to removing water and particulate, is to also allow for the fuel to be treated with additives to kill the microbial growth and to enhance the fuel with cetane boosters and stabilizers. These chemicals are injected into the return fuel flow using a precise metering pump to insure the chemicals are properly mixed throughout the tank.
It is very important to have fuel tested as this information will provide you with feedback on how often to run your filtration system and if any additives need to be injected.
Permanent, on-site installation, indoor or outdoor for single or multiple tanks

Multi-stage, progressive particulate filtration and water removal described below

Integrated, high-performance 5-350 GPM pump

Fully automated, flow control and monitoring devices

PLC based programmable digital controller

110% Containment
Progressive Filtration and Conditioning:
Coarse, straining through 40 mesh stainless steel washable screens

Pre-filtration through 10 micron disposable media filter

Final filtration through 5 micron disposable media filter

Water separator to 5 PPM

Water Collection chamber with sensor

Filtration Run Time Display

Remote iPhone Access for monitoring
Sizing a Filtration System:
Most fuel contaminants will settle from still fuel resulting in a stratification of fuel with contaminants concentrated in the lower strata. Therefore, it is necessary to circulate and filter the lower 25-33% of the tank contents. The Fuel Gard
system draws fuel from the bottom of the tank and returns the fuel to opposite end with minimal disturbance of the settled strata resulting in good filtration performance and removal of contaminants and water.
It is recommended to size the filtration system to circulate and filter 25-33% of the tank capacity in a nominal 8-hour run period, once each week.
Call for pricing and availability.
Optional Stainless Steel vessels and fluid circuits

Optional Stainless Steel Enclosures

Optional Heated Enclosures